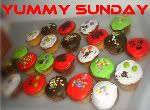 This is Tom Yam, a delicious Thai food.
It is known all throughout Thailand.
I can also cook this kind of food.
My family loves eating Tom Yam
except for my 6-year old, he will cry if he
tastes any spicy food.
More posts with Perfectly Blended.
Come and join us.
It's fun.

http://feeds.feedburner.com/sarahg26/fetz