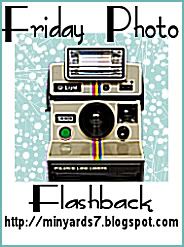 I took a pose while preparing for my graduation in my college years, many years ago, lol! Those were the days. I finished my Bachelor's Degree (BSEd) during this time and I still have a small pocket photo so I took a shot again through my digital camera in order to post here. It's the wonder of having one. How do I look? hahaha! That's the question that I don't want to answer. My friend who became my hubby liked this photo, so he had many pictures of me inside his pocket, hahaha! He was madly in love during those days.
I'm glad to be a part of this meme, at least I can recall and be reminded my past, going forward in this present years and moving onward to the next years of my life. Each one is precious to the Lord and I'm glad I have Jesus, I'm so precious to Him!
The photo has a lot of scratches already, it speaks of the years, lol! You can visit more Friday Flashback Photos and enjoy visiting the sites.
http://feeds.feedburner.com/sarahg26/fetz