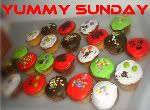 Yummy Sunday is up again, though I'm late but better late than never, lol! This is one of my favorites as far as blogging is concerned. Food is always the best among the rest. Wherever we are food is always served in any country, in any occasion, in any celebrations or even in our day to day life. Life is not complete without food being served everyday.
When we're in the Phil. few weeks ago, we ate in a restaurant when we reach Bacolod City. We were so hungry because we took the cheapest flight from KL, Malaysia at 1.30am and reached Manila around 5am. Then we just waited for our flight again to Bacolod at 8.50 am. We tried to look for a cheaper food in the airport but my hubby only bought a bottle of water for 50 Php. It was so expensive so we kept our tummy stayed in a relaxing condition and waited for our flight back to Bacolod City, our very own place.
That's why when we reached there, we're so hungry and our tummy were crying already inside. So, we decided to pass by a known restaurant that we missed and ordered some food that we missed too. Hmmmm, yummy, we ordered quite a lot and ate to the max, lol! Here's some of the
pictures

Please visit Perfectly Blended for more yummy photos.
http://feeds.feedburner.com/sarahg26/fetz