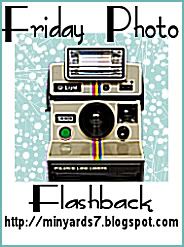 I saw this picture in my wallet and I decided to take a picture again using my digital camera. This picture was taken when we were still friends (with my hubby), hehehe! closer than a friend. I was still taking my Bachelor's Degree during this time. I like this photo that's why I brought this photo with me wherever I go.
I met my hubby when I was still studying. I joined in a college choir, ( it was known as Glee Club) where I became a scholar. We went to different places and sang some classical songs. Aside from joining the Glee Club, I also joined another singing group but all of the members were christians. We had concerts to different places and churches as well. One time, in one of our concerts in a church, I was singing solo, someone saw me and was attracted to me while I singing, hehe! He became my hubby, so sweet! Just a part of my life.
Anyway, it's my first time to join this meme, thanks for the host. Try to click the link above and you will be linked to the host and you can also visit other posts here at
Photo Flashback
every Friday, you will enjoy!
http://feeds.feedburner.com/sarahg26/fetz