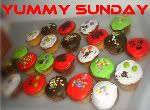 We were invited to a baby shower last Saturday by Gene who's sister- in- law Nona is prepared to give birth next month. We came late because we had our prayer retreat the night before so we were not able to join the "pakulo", some games that they enjoyed most.
However, we are glad that we ate this yummy food. It's an ice cream cake. It's so yummy and tasty. So I decided to post this today on my Yummy Sunday this week.
You can also view some Yummy Sunday photos with Bogie. Try it and see and have fun!
http://feeds.feedburner.com/sarahg26/fetz