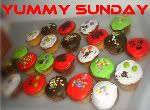 It's mango season in Thailand. And everytime I saw this kind of fruit, I can't help but buy a lot and ate a lot too, AJ (my 6-year old) would always sit with me and we ate together.
It's my Yummy Sunday post for today. Yesterday, I decided to make "Mango Float" – others call it "Ice Box Cake" whatever it is called, it is delicious and yummy! My family in the Phil. loved it especially when I'm the one making it, huh! And our friends too in Manila. If I'm around, they will ask me to make mango float for them.
I seldom do it here because you could not find nestle cream and graham here in Thailand. Unless our friends will be coming and we ask them to buy for us. Our friends came last time and brought for us so I was able to make. Anyway, here's how:
You need:
1. mangoes – cut in small pieces (square or any shape) — set aside
2. nestle all-purpose cream – 2 boxes (or can)
3. condensed milk – 1 can
4. graham crackers ( crushed and plain )
How to start, quick and easy:
1. Mix well Nestle all- Purpose Cream and condensed milk.
2. Spread 4-5 tbsps of the cream mixture into the bottom of the square glass, aluminum or plastic container. You can also use the ice cream container or box if it is available.
3. Arrange graham crackers on top of the cream (Crushed Graham Crackers), followed by mango on top of the graham crackers.
4. Add another layer of cream, then plain crackers, then add mango on top and be sure the last layer would be the cream. Then chill for at least a night. If you want it creamier, add more cream onto the layer.
5. Do it the same with the other container if cream and other ingredients are still available.
You can also find more Yummy Sunday posts with Janet. Have a blessed Sunday!
http://feeds.feedburner.com/sarahg26/fetz