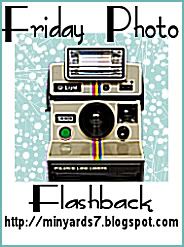 When I was still studying for my Bachelor's Degree, I was a scholar under Glee Club. Glee Club is the name of the singing group of the college that time now, it became a university. Our group was the known singing group in the 90's and we won 2nd place in the National Competition (known as NAMCYA- National Music Competition for Young Artists) held at CCP, Manila. This is one of our costumes.
One of my unforgettable and happy moments, and the time when hubby saw me singing, waaahhhh! He was attracted to my voice, then attracted to my grades, when we became classmates, hehe! I'd got the highest grade in our Practical Teaching inside the classroom when I did my demonstration, since then, he started making friends with me, haha! and I was trapped by his sweet ways, and fall in love after a year. What an experience!!!
Alicia of Friday Photoflashback has more to share. See you there!
http://feeds.feedburner.com/sarahg26/fetz