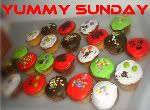 We started our English Camp this week so I don't have enough time to blog. But I'm still awaiting this time to share because it's Sunday.
This week I had asked my Thai friend to make my favorite Thai food "Ratna" and I saw how she made it. I will try to write the recipe next time. I will show you how she made it. Quite easy and interesting.
The Sauce
Thai food are very delicious because of their tasty sauce.
I will try to make a recipe next time and you can try it.
http://feeds.feedburner.com/sarahg26/fetz