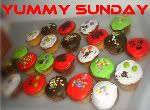 Last December, we had a chance to have a party in the school. It's quite far from the city. One of the volunteers cooked "Ratna" my favorite Thai food. All of us including the teachers and the students ate it. It's so delicious.
I believe yo like yummy food. Thanks for Boogie with her
Perfectly Blended
. It's all about food shared all throughout the world. Wanna join?