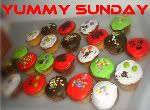 Since the first week of this month when I knew that I am having a baby again, I started to be aware of my health. If you have seen in my posts, I'm pregnant every 7 years, and I'm glad it's the Lord's number. Anyway, I started to think of what I'm going to eat to benefit the baby. Then I discovered while surfing that I need more iron and other vitamins for my baby. I ate oranges and apples a lot. According to the study, Vitamin C helps maximize iron absorption, so orange is the best. Aside from oranges, other fruits like strawberries, grapefruit and tomato juice are also high in iron.
So I decided to post oranges and apples for my Yummy Sunday post this week. Hope you like fruits too.
A Taste of My Life
has more to share. Try to join, you still have time to share your yummy photos.